Archives for November 2018
Award recognizes hospitals for patient satisfaction
in outpatient surgery  
Jacksonville, Fla., Nov.13, 2018 – Baptist South has been recognized as a 2018 Guardian of Excellence Award® winner by Press Ganey for patient satisfaction with outpatient surgery. The Guardian of Excellence Award recognizes top-performing health care organizations that have achieved the 95th percentile or above of performance in patient experience.  
The Press Ganey Guardian of Excellence Award is a nationally recognized symbol of achievement in health care. Presented annually, the award honors hospitals that consistently sustained performance in the top 5 percent of all Press Ganey clients for each reporting period during the course of one year.  
"We have a great team that works diligently to surround our patients and families with care and keep them comfortable and informed throughout their surgical experience," said Hospital President Nicole Thomas. "Providing compassionate care requires open communication, anticipating our patients' needs, and providing reassurance to create the most favorable experience possible."
 "We are proud to partner with Baptist South to support their mission to provide safe, high-quality, patient-centered care." said Patrick T. Ryan, CEO of Press Ganey. "They are truly dedicated to delivering exceptional care in the communities they serve, and their commitment to capturing and acting on patient experience feedback is a very powerful demonstration of this." 
According to Amy Huveldt, Baptist Health's vice president of Performance Excellence, the award represents an important recognition from the industry's leader in measuring, understanding and improving the patient experience. "The way our patients experience their care is a driving force throughout our health care system. They will always remember the way we made them feel. It's just as important as providing the best medical care possible."
###
About Baptist Health
Baptist Health is a faith-based, mission-driven system in Northeast Florida comprised of Baptist Medical Center Jacksonville; Baptist Medical Center Beaches; Baptist Medical Center Nassau; Baptist Medical Center South; Baptist Clay Medical Campus and Wolfson Children's Hospital  – the region's only children's hospital.  All Baptist Health hospitals, along with Baptist Home Health Care, have achieved Magnet™ status for excellence in patient care. Baptist Health is part of Coastal Community Health, a regional affiliation between Baptist Health, Flagler Hospital and Southeast Georgia Health System forming a highly integrated hospital network focused on significant initiatives designed to enhance the quality and value of care provided to our contiguous communities. Baptist Health has the area's only dedicated heart hospital; orthopedic institute; women's services; neurological institute, including comprehensive neurosurgical services, a comprehensive stroke center and three primary stroke centers; a Bariatric Center of Excellence; a full range of psychology and psychiatry services; urgent care services; and primary and specialty care physicians' offices throughout Northeast Florida. Baptist MD Anderson Cancer Center is a regional destination for multidisciplinary cancer care which is clinically integrated with MD Anderson Cancer Center, the internationally renowned cancer treatment and research institution in Houston. For more details, visit baptistjax.com.
About Press Ganey 
Press Ganey pioneered the health care performance improvement movement more than 30 years ago. Today, Press Ganey offers an integrated suite of solutions that enable enterprise transformation across the patient journey. Delivered through a cutting-edge digital platform built on a foundation of data security, Press Ganey solutions address safety, clinical excellence, patient experience and workforce engagement. The company works with more than 33,000 health care facilities in its mission to reduce patient suffering and enhance caregiver resilience to improve the overall safety, quality and experience of care.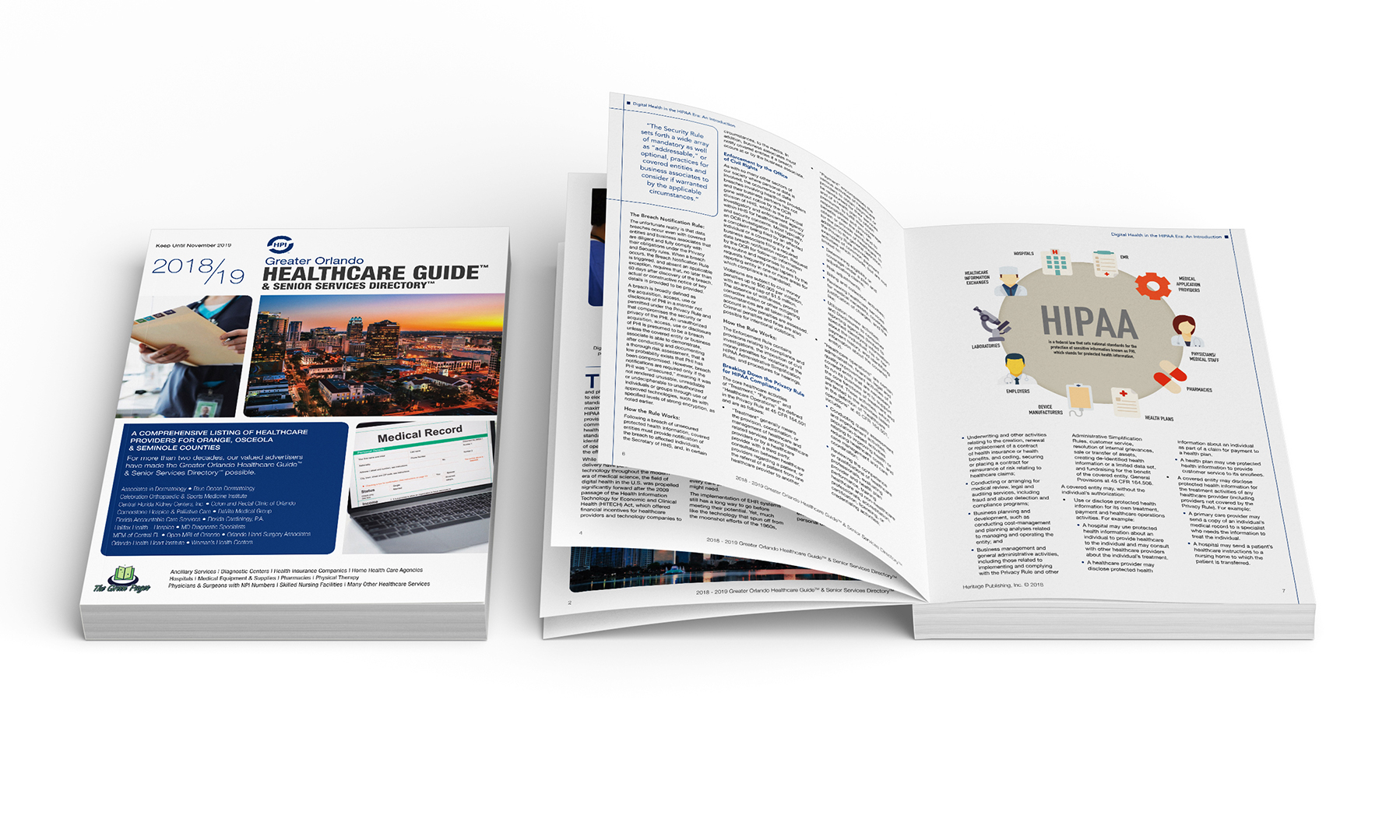 WELCOME
to the 2018-2019 Greater Orlando Healthcare Guide & Senior Services Directory™. These publications have been combined to be your resource for all aspects of the healthcare and senior service industries in the greater Orlando region. They contain the most up-to-date information available for directory listings, legislative changes, and changes in medicine, in addition to valuable information on programs, services, organizations and agencies for seniors throughout the area.
Additionally, the Greater Orlando Healthcare Guide & Senior Services Directory contains our Green Pages™ section, a comprehensive, easy-to-read directory. The Green Pages include listings of physicians by specialty, area hospitals, physician assistants, and ancillary healthcare providers and services. These listings include National Provider Identifier (NPI) numbers, if available, for further convenience.
We strive to present the most current information in our publication. However, if your listing needs to be corrected, please let us know. You may also submit changes at www.heritagepublishinginc.com.
If you would like to order more copies visit our website at www.heritagepublishinginc.com.
Finally, I encourage you to support our valued advertisers. Without their participation, this publication wouldn't be possible. As always, we greatly appreciate their partnership.
Cordially,
Marzoug (Mark) Al-Amad | Publisher & President
Heritage Publishing, Inc.