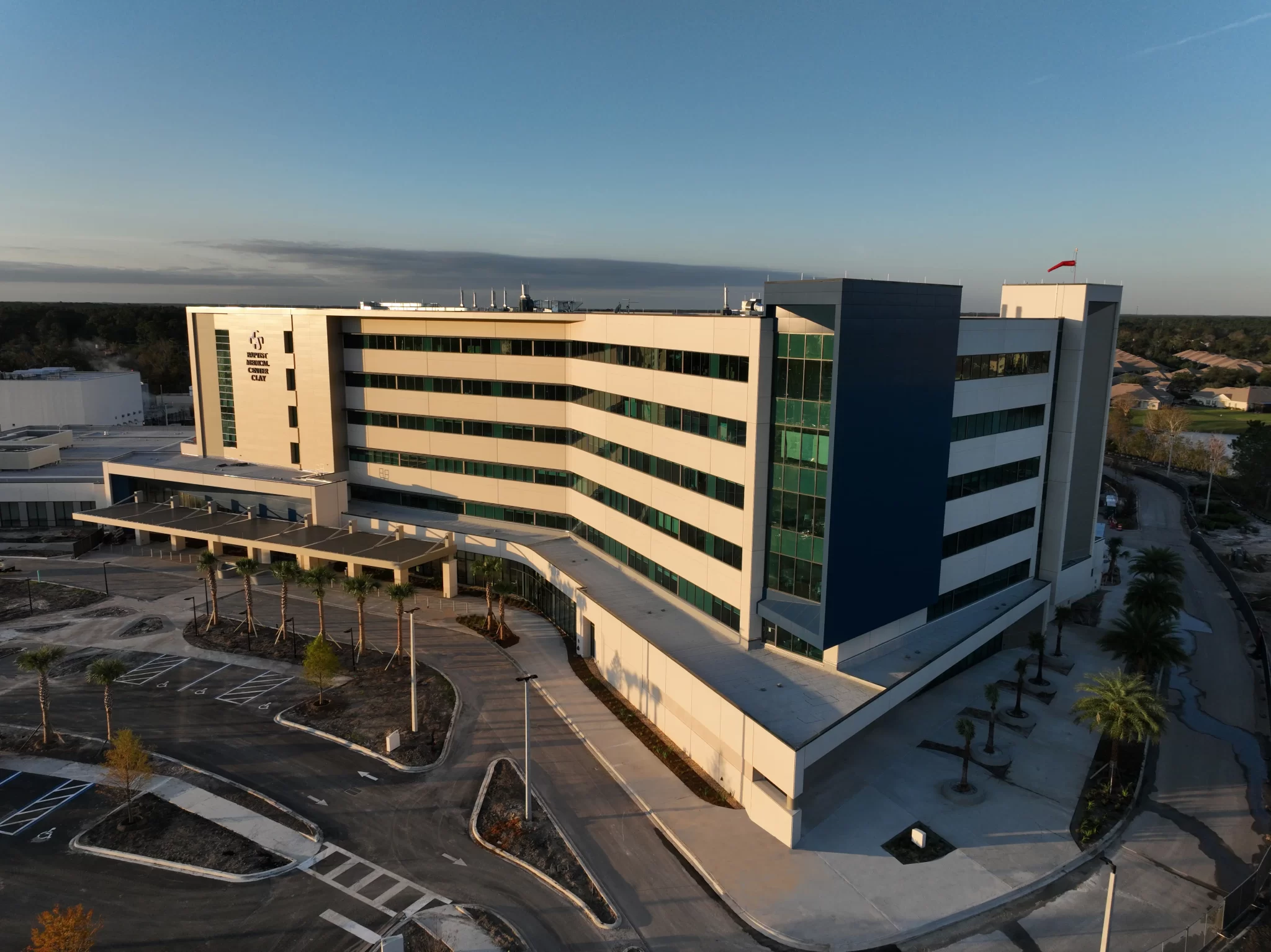 The new six-story hospital brings much-needed health care services to the growing Clay County community. 
Fleming Island, Fla. – Dec. 19, 2022 – Clay County residents now have an ultra-modern, full-service hospital conveniently located on Fleming Island with the official opening of Baptist Medical Center Clay today, Dec. 19, 2022.
The six-story, 300,000-square-foot hospital includes 20 spacious maternity suites, a Neonatal Intensive Care Unit, advanced heart care, comprehensive cancer care, and innovative surgical care, all in one place.
"Clay County residents told us they needed hospital-based health care services close to home," said Hospital President Darin Roark, BSN, MBA, RN, FACHE. "Having a full-service hospital nearby eliminates having to travel out of the area to get high-quality medical care," said Roark. "Now, the community has the high level of patient care they expect from Baptist Health – right here in their own backyard."
The hospital blends the most advanced medical care with patient comforts and an elegant design. Medical staff supplies and back-room operations are strategically tucked away from patient care settings to minimize noise and disruption. Large private patient rooms, calming LED lighting and soundproof doors add to a quiet healing environment.
Crews broke ground in November 2020 and worked more than one million hours to bring the hospital to fruition. Building the hospital during a pandemic led to preventive measures that were incorporated into the hospital design, including:
The 4th-floor Intensive Care Unit can switch to negative-pressure rooms in an instant to maximize infection control. This prevents contaminated air or other dangerous particles from flowing into non-contaminated areas.
Restrooms are equipped with touchless fixtures and doors as an extra prevention measure.
Baptist Clay has its own central energy plant to operate "off the grid" when needed. Hospital generators are sufficient enough to power up to 150 homes.
"Opening a full-service hospital on Fleming Island is the culmination of nearly two decades of planning and hard work," said Baptist Health President and CEO Michael A. Mayo, DHA, FACHE. "Baptist Health was determined to build a hospital in the growing Clay County area to expand health care choices for local residents and to give them the high level of quality patient care they deserve."
The hospital was designed with room for expansion. Additional services can be added as the community continues to grow. The 5th and 6th floors will be built out as the need for health care increases.
The hospital campus includes an outdoor jogging path connecting to Black Creek Trail. "As part of Baptist Health's commitment to the community, the plants and trees along the lake banks remain and the large Oak Grove on the southern end of the campus has been preserved," Roark said.
Baptist Medical Center Clay is a $234-million investment in the community, bringing 400 new jobs to Clay County. The general contractor is The Haskell Company, and the architect is HuntonBrady Architects.
Baptist Clay is the only locally owned, locally governed, not-for-profit hospital in the county. "Decisions about Baptist Clay are made locally by people who know and understand our community," said Deborah Pass-Durham, board chair for Baptist Clay. "We are entrenched in the community, and shape our decisions based on local residents' needs."
Next door to the hospital is Baptist HealthPlace at Fleming Island, a new health and wellness center, which will include free health coaching, biometric screenings, and nutrition planning. The center also features a variety of specialties, including primary care, cardiology, urology, neurology, walk-in lab draws, and a spa-like Women's Imaging Center for 3-D mammograms and bone density tests. Baptist MD Anderson Cancer Center will join in Spring 2023.
"Our growing medical campus is a place of health and wellness for the community," said Roark. "We will host a variety of health-related events, such as "Talk with a Doc" discussions on a variety of health topics."
Roark joined Baptist Health in 2012 as an assistant administrator overseeing all emergency centers in the health system. Roark has served as administrator of the Baptist Clay Medical Campus since October 2013. He is past chairman of The Clay County Chamber of Commerce and is on the board of the Clay County Utility Authority. Roark and his family live on Fleming Island.
"As a former nurse and a Clay County resident for many years, I am excited and honored to bring world-class, patient-focused health care to Clay County," Roark said.
###
About Baptist Health
Baptist Health is a faith-based, mission-driven system in Northeast Florida comprised of Baptist Medical Center Jacksonville; Baptist Medical Center Beaches; Baptist Medical Center Nassau; Baptist Medical Center South; Baptist Medical Center Clay and Wolfson Children's Hospital – the region's only children's hospital. Baptist Health is part of Coastal Community Health, a highly integrated regional hospital network focused on significant initiatives designed to enhance the quality and value of care provided to our contiguous communities. Baptist Health has the area's only dedicated heart hospital; orthopedic institute; women's services; neurological institute, including comprehensive neurosurgical services, a comprehensive stroke center and two primary stroke centers; a Bariatric Center of Excellence; a full range of psychology and psychiatry services; urgent care services; and primary and specialty care physicians' offices throughout Northeast Florida. The Baptist MD Anderson Cancer Center is a regional destination for multidisciplinary cancer care which is clinically integrated with the MD Anderson Cancer Center, the internationally renowned cancer treatment and research institution in Houston. For more details, visit baptistjax.com.